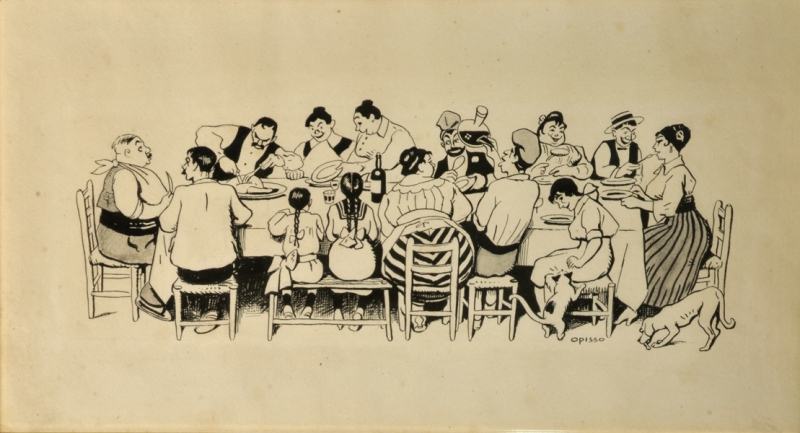 Barcelona has a different atmosphere for each season of the year, not only the weather changes, but also what we like to eat. What doesn't change is that every meal is taken quite seriously, it is the best moment of the day, around a table with your family and friends and, if you're lucky and have some time, a siesta will just make it the perfect day.
There is so much food in Barcelona to choose from, that we thought best to make a selection of our favourite meals for each month of the year:
January – Last Christmas treat: the Tortell de Reis
Christmas is not over yet, there is still a major meal and celebration on the 6th of January: The Kings' Day. This is when the 3 Wise Men (or Kings as we call them here) bring presents to all the children in Spain. As all celebrations, there is a large meal following. For dessert: Tortell de Reis.
The most curious fact about this ring-shaped cake is that it hides two small figures inside: if you find a small figure of a king you will be crowned and be King or Queen for a day. But beware! If you find a broad bean, you will have to pay for the cake.
February – Anything with eggs for Fat Thursday
Just before the Old Lady Lent arrives with her restrictions, everything goes a bit crazy with the Carnival Festivals and eating as much as you can. The week starts with Fat Thursday (Dijous Gras), there are many options to eat, quite fatty and normally including egg. If you're in Barcelona around Carnival you must try:
Butifarra d'ou, a thick sausage made with pork and egg – and don't forget to eat it with a slice of bread and tomatoe
Coca de llardons, a pastry cake with pork crackling
March – Sticky fingers are a must in a Calçotada!
The calçot is a long onion. You grill it over flames, peal it, dip the calçot in a Romesco sauce and eat it! Be ready to get sticky fingers, this is not a romantic or formal meal, but more a way to have fun with friends and family.
April – A chocolate feast with the Easter Mona
Do you believe anything can be built in chocolate? Check our pastries in Easter! This is when godparents give an Easter Mona to their godchildren. It used to be a cake with a chocolate egg on top, but that has evolved to an extraordinary variety of figures, anything you can imagine is probably there!
May – Best time to try some snails
You may know them as 'escargot' from France, but snails are also widely eaten in Catalonia, not that much as a delicatessen, more as a special treat. The most famous way of eating them is 'cargols a la llauna', or snails cooked in a tin. They are normally accompanied by all i oli, a garlic and oil dressing.
If you go to a restaurant, remember that you order them in numbers. Normally from 60 to 200 or even more if you're a group.
June – Fireworks and Coca de Sant Joan
Joan is actually a man's name, Juan in Spanish or John. It's saint's day is on June 24, the eve is the shortest night in the year. So a night to celebrate with fireworks and bonfires.
You will see many 'coques' in bakeries in the end of June, accomanied by a glass of cava it's just delicious!
July – Gamba de Palamós, an exquisite red prawn
Can't talk about typical foods without some seafood! This prawn is found in the Costa Brava, and it's name comes from a beautiful town there, Palamós. They're really tasty, quite small, with a reddish colour and firm texture.
August – Rice
There are several kinds of paella, and several ways to cook rice. The seafood paella is delicious, but you can also change the ingredients and try a meat paella with rabbit or a vegetable paella with artichoques.
You can change the way you cook rice: Arròs a la Cassola (casserole rice), Arròs Caldós (soupy or wet rice), Arròs Negre (black rice with cuttlefish). But what you don't normally change is the kind of rice, it is always short grained.
September – Bread and tomatoe is an absolute must!
You haven't been to Barcelona if you haven't had a bread and tomatoe toast or sandwitch. Rub some tomatoe over the bread, add some olive oil and salt, sometimes you can add a gentle rub of garlic. This is how ham will taste best.
October – Autumn delights: mushrooms
Catalans go crazy in autumn, the first rains and they all go out hunting for mushrooms. It takes year to get to know where to find and how to identify the good and delicious mushrooms. You will find stalls in many markets, the most popular is the 'rovelló' (bloody milk cap) and many restaurants include them in their menu, as a side dish or with pasta or rice.
November – Ham and sausages
Before there were fridges we found several ways to preserve meat. The family of 'embotits' is our favourite. Salted and dried meat that make some extraordinary hams (jamón) and sausages like fuet and llonganissa. The best is to try some with bread and tomatoe, you can enjoy a taste in our Barcelona Shopping and Sensations walking tour.
December – Escudella i carn d'olla
A tasty and warm stew is our favourite when it gets cold. The Queen of all stews is the Escudella, normally coocked for Christmas and with as many kinds of meat and vegetables as possible.