Heritage interpretation is the communication of information about, or the explanation of, the nature, origin, and purpose of historical, natural, or cultural resources, objects, sites and phenomena using personal or non-personal methods.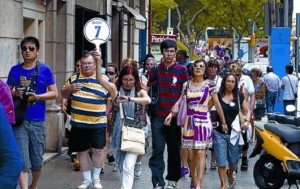 Heritage interpretation may be performed at dedicated interpretation centers or at museums, historic sites, parks, art galleries, nature centers, zoos, aquaria, botanical gardens, nature reserves and a host of other heritage sites.
Heritage interpretation uses a variety of methods and may include guided walks, talks, drama, staffed stations, displays, signs, labels, artwork, brochures, interactives, audio-guides and audio-visual media.
The process of developing a structured approach to interpreting these stories, messages and information is called interpretive planning. Those who practice this form of interpretation may include rangers, guides, naturalists, museum curators, natural and cultural interpretive specialists, interpretation officers, heritage communicators, docents, educators, visitor services staff, interpreters or a host of other titles.
Freeman Tilden is considered the father of the profession of interpretation. After working as a newspaper reporter, a playwright, and a non-fiction author, Tilden worked with the National Park Service analyzing interpretation within various parks.
Tilden traveled for years observing guided tours, talks, and other types of interpretation. In 1957, Tilden wrote Interpreting Our Heritage, the first book to define interpretation as a profession. The book focuses on effective methods of interpretation, including Tilden's Six Principles of Interpretation. Today, the book continues to serve as a guide for interpretation professionals.
Interpretation that does not somehow relate what is being displayed or described to something within the personality or experience of the visitor will be sterile. Interpretation should be personal to the audience.
Information, as such, is not interpretation. Interpretation is revelation based upon information. Successful interpretation must do more than present facts.
Interpretation is an art, which combines many arts. Any art is in some degree teachable.
The chief aim of interpretation is not instruction, but provocation. Interpretation should stimulate people into a form of action.
Interpretation should aim to present a whole rather than a part. Interpretation is conceptual and should explain the relationships between things.
Interpretation addressed to children should not be a dilution of the presentation to adults, but should follow a fundamentally different approach. Different age groups have different needs and require different interpretive programs.
 (Tilden, F. 1977. Interpreting Our Heritage. 3rd edition. Chapel Hill: The University of North Carolina Press.)