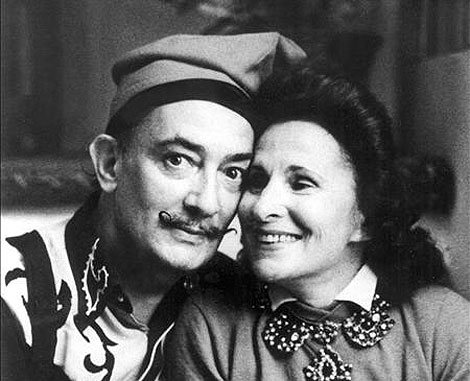 Have you ever wondered why Salvador Dalí was such a complete artist? The reasons are way too many. His artistic talent, his personality and connections gave him a lot of fame, he has been considered the most famous living painter in the world of the twentieth century. Although he was a pioneering man in other fields such as advertising or fashion, there are some key elements in his thinking which shaped the creations of the catalan artist.
I problemi di disfunzione erettile, cioè l'incapacità a raggiungere e/o mantenere un'erezione sufficiente ad avere un soddisfacente rapporto sessuale interessano soprattutto gli uomini in età avanzata, ma in qualche caso possono colpire anche uomini più giovani. Le pillole per l'erezione in https://banana-farmaci.com/ rientrano nella categoria dei farmaci per la patologia che va sotto il nome di impotenza. Acquista adesso ai migliori prezzi di mercato!
Of course this is something tightly related to his personal growth, this means, Salvador Dali's Biography. In today's post we will not talk about his biography but rather set a list of recurrent themes in his works. This is a short way of defining Salvador Dalí's thinking compiled in tons of books, which is also a way to understand his most famous public eccentricities, like the many ones we could see in some videos onnline.
Salvador Dalí, the creator, and the edibility of art.
When someone wants to collect art it's probably because there is certainly some appetite for specific artworks. And Dalí was in fact a great art collector, he even collected art nouveau street lamps from Paris! His appetite was infinite, and that's because he also saw Art works as something edible, with taste smell and texture.
The edibility of art is an interesting concept, and of course Salvador Dalí also applied the idea of edible art within his surrealistic creations, a whole buffet of color and compositions with many inspirational sources to harvest his ingredients. So what artistic, theoretical or sentimental fields was he harvesting inspirational lettuces, tomatoes and artichokes? Here's five inspirational sources of Salvador Dalí, the creator:
1. Eggs and geometry
Talking about ingredients, Eggs must not be forgotten, his idea of the oval form is really profound, as it's a proportion that carries life, oval forms are present even in the main façade of the Dalí Museum in Figueres.
As said, proportions and geometry were very important in the Dalinean imagery, a geodesic dome at the style of Buckminster Fuller is to be seen in the same Museum.
2. Other Artists
Dalí got inspired by many Artists from all kinds of disciplines, from the Swiss painter Arnold Böcklin to the french poet Raymond Roussel. Regarding the painters he admires, among his works you can find all kind of references to big Classics: Velázquez, Vermeer, El Greco, Raphael, Michelangelo, Durero or, Hieronymus Bosch.
Of course, Dalí was respecting and admiring his contemporary fellows from near the beginnings of 20th century: Man Ray, Seurat, Matisse, Ozenfant, Jeanneret, Morandi or Casorati to mention a few. We shall not forget the admiration he felt for other spanish artists who pioneered in their disciplines, these are Federico García Lorca, Luis Buñuel, Rafael Alberti and recognised the talent of Pablo Picasso.
3. Physics, mathematics and science
Nowadays there should be no doubt on the powerful link between arts and sciences. In this context, Dalí developed a strong curiosity for physics, since the atomic bombs were being tested. This historical scientific achievements implemented new ways to perceive the world, that's why things are floating and being discomposed in particles in Dalí's compositions.
4. Philosophy, psychology and psychoanalysis
Salvador Dalí's interest for philosophy began very soon in his early youth. And so he started to feel attracted by the ideas proposed in latter works of german authors Friedrich Nietzsche and Sigmund Freud. This shaped his surrealistic thinking in a tremendous way, he started working on his own «paranoid-critic-method, where you could see more than just one image.
Oniric subjects and anything related to dreams and memory, the works of Dalí and their implicit thinking drew the attention not jus of surrealists and art collectors, but also of key figures from the psychoanalysis field such as Jacques Lacan, who even came to visit the artist.
5. Gala, the muse
The interest for Philosophy came from the death of his mother, the first woman of his life, and it is a key moment for the rise of the surrealist Dalí. But even before that, the artist had a special conception of women, a lot of respect towards the feminine figure, and this is shown in many paintings.
Once Dalí met the love of his life, the Russian muse Gala, her face appeared in many works. His love to her was really strong, until he bought her a small Castle, Castell de Púbol.
What other inspirations do you think we should add? Is there any excentricity or surrealistic fact you'd like to share with us? You can also read our post on how it feels to discover Dalí with a licensed guide!