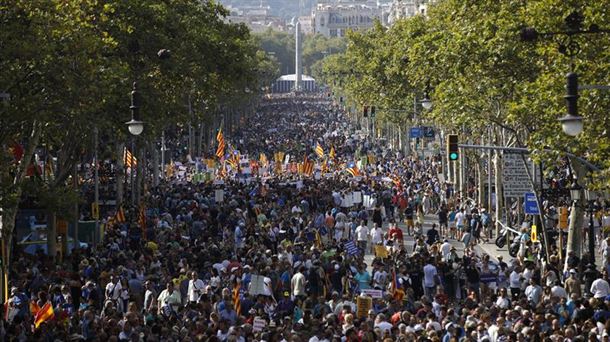 If you are in Barcelona or planning a trip soon, you will have seen there are protests taking place in the city and throughout Catalonia. You are probably thinking, is Barcelona safe? The answer is yes, it's safe as usual. The main issue is that getting around can be difficult. During this week (mid October 2019) there are non violent demonstrations and they are in specific locations, which you can avoid.
What can you do? We recommend that you are open to last minute changes and keep in mind the following recommendations:
Before leaving the hotel:
Take ample time to get around, especially if you have a flight booked or you are going outside Barcelona, where there are fewer itineraries to choose from than if you are in the city.
Make sure that the activities you have planned for the day are still on schedule or if there have been cancellations. Ask your concierge how you can get there easily.
Follow on Twitter the official channels like the Police (@mossos)
How to plan your day:
The best way to get around is to walk and take the Metro.
The majority of protests are in the evening and at night, mainly in Via Laietana, Passeig de Gràcia and plaça Sant Jaume. Try to avoid these areas in the evening.
What to do on Friday 18 October:
This is the day that will have most demonstrations and traffic restrictions.
Consider that our Daily Tours will be cancelled, you will get 100% refund or you can change the date.
The monuments have told us they will be open, so you can visit them. Nevertheless, make sure they are still open before you go.
Plan this day to be the one you discover the surroundings of your hotel. As said previously, walking around is the best way to ensure you will be able to get around.
Avoid a day trip outside Barcelona. If the road is closed, you could be stuck for a few hours.
The aim of the protesters is to make as many traffic restrictions as possible. The train, metro and roads are being cut intermittently, sometimes without previous notice. For this reason we cannot ensure we will keep the same itinerary and schedule planned for our tours.
Why are they demonstrating?
The Catalan Secession leaders have been found guilty of sedition with prison terms between 9 and 13 years. Find out more here.
The safety and comfort of our customers is a top priority for us.
If you have any questions about your stay in Barcelona, feel free to call us at +34 932682422 or contact us via e-mail reservations@barcelonaguidebureau.com, Facebook, Twitter or Instagram.