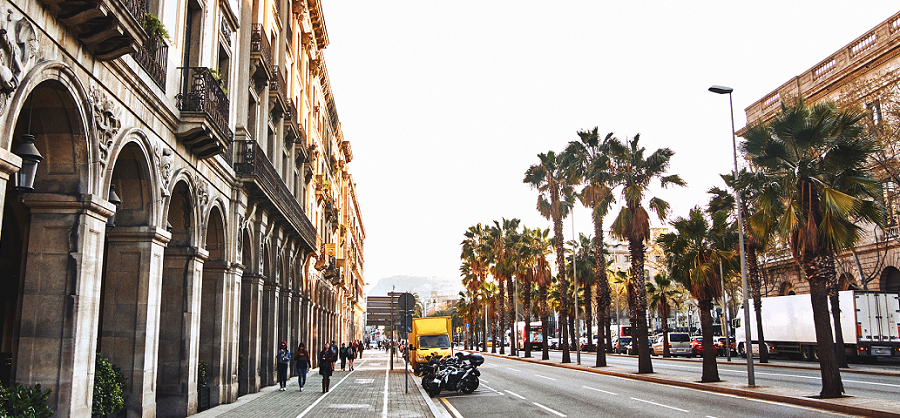 Visiting Barcelona this year? Or maybe just looking for the best place to check a few items off your bucket list on vacation? Skip Fodor's, Frommer's, and Rick Steves, and get the scoop from people who actually live in Barcelona and know her secrets…
Barcelona is a top destination in Europe for many—and with good reason. It's got glorious art and architecture, delectable tapas and wine, fabulous shopping, and a hip, modern vibe.
But don't think it's youthful culture makes it inhospitable to mature travelers—nothing could be further from the truth! Barcelona has something for everyone. If Spain is on your agenda this year, don't miss these bucket-list adventures for the 60-something tourist.
1. Take a traditional boat cruise on the Mediterranean and see Barcelona from the sea
When you're walking its streets, you can lose yourself in the details of this amazing city. But see it from the Mediterranean and your whole perspective changes.
Why not take an afternoon cruise on a traditionally built sailing ship? The mesmerizing blue water of the sea strikes a lovely contrast with the Barcelona skyline. You'll see the Sagrada Família, the Olympic port, and the city's lovely beaches.
2. Ride high up in the mountains to Montserrat and listen to the Boys Choir sing Vespers.
Montserrat is one of the most popular day-trips from Barcelona—and with good reason. The scenery is spectacular, and the monastery with its magnificent boys choir are known the world over.
The Montserrat Boys Choir, or Escolanía, is one of the oldest in Europe and dates back to the 14th century. The choir performs internationally several times a year and releases recordings available to the public. In addition to having exceptional music skills, they must be academically excellent and meet strict behavior standards. Do yourself a favor and book a Montserrat tour on your trip to Barcelona—you won't regret it.
3. Tour the underground cellars at Codorníu and enjoy a cava tasting experience.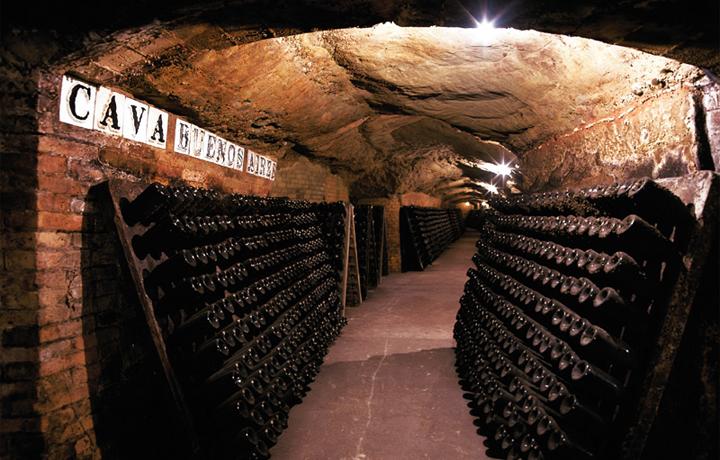 Codorníu is the oldest family business in all of Spain; it dates back over 450 years. It's also the second-largest cava producer in the world—and there are 100 million bottles of cava in their man-made underground caves. Some 20 miles of tunnels connect the cava store rooms, and you can ride through them on electric train cars.
Fun fact: Until a few years ago, the regular turning of those millions of bottles of cava had to be done by hand!
Don't miss a trip to Codorníu to tour of these amazing cellars—and enjoy a cava tasting.
4. Experience a night of flamenco dancing at the Palacio del Flamenco.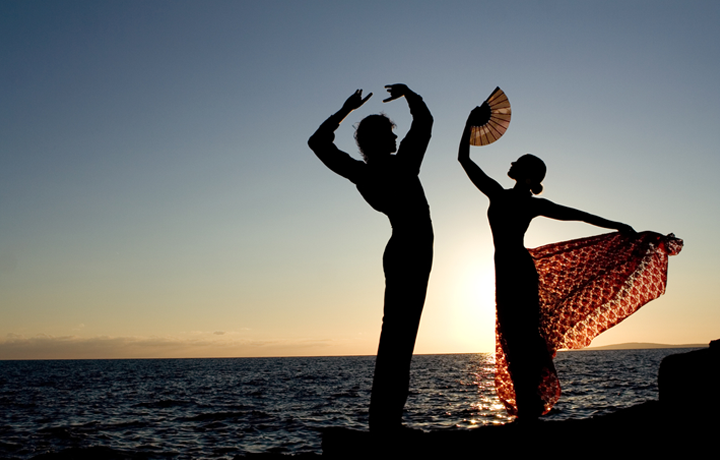 Flamenco is a highly expressive dance form with Arab and Indian roots and a special place in Spanish culture. It's dramatic, passionate, and sets the pulses racing—something not to be missed on a trip to Spain.
Barcelona's Palacio del Flamenco is the largest flamenco theatre in Spain; you can enjoy a performance of classical dance and flamenco (and optional tapas, if you like). Come early and enjoy a free flamenco lesson before the show!
5. Shop the chic El Born district with a personal shopping guide.
El Born is Barcelona's SoHo, packed with backstreet boutiques where you can shop to your heart's content. One-of-a-kind jewelry pieces, handbags, shoes, scarves, home goods, and fabulous foodstuffs fill the narrow streets of El Born.
Treat yourself to a shopping excursion with your own private shopping guide—visit the best independent shops, meet the artisans, and enjoy lunch at one of the charming cafes over a glass of wine. A perfect afternoon!
6. Learn about Spanish tapas culture with a tapas and wine tour in the Gothic Quarter.
Tapas isn't just delicious small plates to share with a friend, it's a culture in Barcelona. One with its own vocabulary, customs, and etiquette—and you definitely need to know the difference between tapas and pintxos, the Basque-style bites.
No matter which you choose, however, an evening of small bites and wine is the quintessential Barcelona experience.
7. Immerse yourself in the essence of Gaudí at Sagrada Família.
Most agree that the Sagrada Família is Gaudí's crown jewel—his magnum opus—and no trip to Barcelona is complete without exploring this breathtaking structure. Gaudí worked on it from 1883 until his death in 1926, and in fact, he's buried in its Chapel of Our Lady of Mount Carmel. Pope Benedict XVI proclaimed it a basilica in 2010 and work is still ongoing; it's not expected to be finished until 2026.
Even so, it's an unbelievable edifice, with 18 towers and three ornate facades and incredibly intricate details. You really can't miss a tour—but be sure to go with an expert guide and skip the lines. Don't waste your time in Barcelona standing in queues.
8. Admire the fresh fruit and flowers at Boqueria Market.
Las Ramblas is known around the world—you can't do Barcelona without strolling this wide, shop- and cafe-lined boulevard. And if you're strolling Las Ramblas, you can't miss Boqueria Market. It's a feast for the senses—eye-popping colors, delectable aromas, and produce to tempt any palate.
Of course, you can wander the market on your own, but why would you when you can take a walking tour and learn the history and significance of this magical market, and get insider tips on where to find the most appealing goods.
9. Marvel at the modern masterpieces at the Picasso Museum.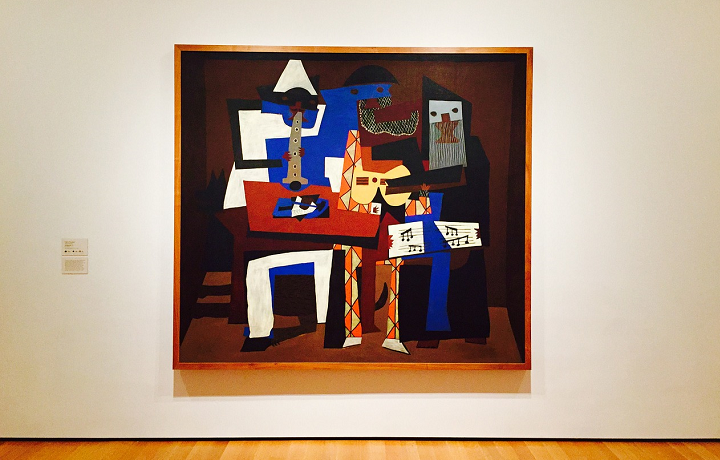 Picasso is perhaps the most famous of Barcelona's sons—his painting, La Rêve, commanded $155 million in 2013, the most ever paid for a painting by a private collector. Although he was born in Málaga, Picasso spent his most influential years in Barcelona, where he apprenticed as an artist.
While you can't see La Rêve in Barcelona, you can see the largest collection of Picasso's works at the Picasso Museum. Many of his drawings and early works, pieces from the Blue Period, and the Las Meninas collection are all on exhibit at the museum.
10. Check out the Olympic Ring at Montjuïc and take in an FC Barcelona match.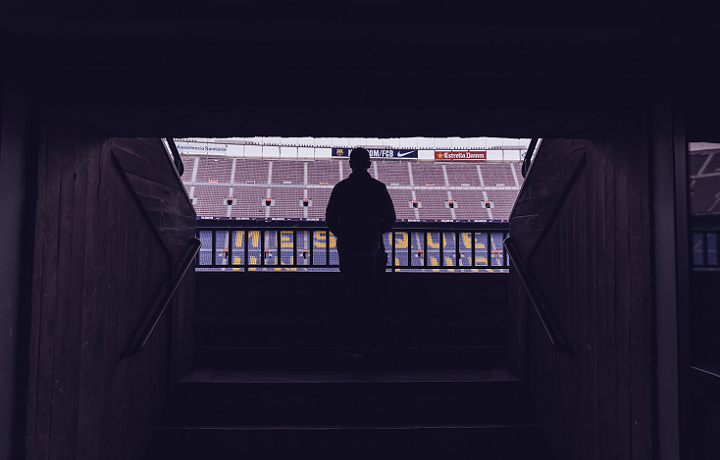 The 1992 Olympics transformed Barcelona and it's worth a visit to Montjuïc to see the new facilities—the pool, the sports pavilion, and especially the Olympic Ring. And while you're there, you might as well take part in that most passionate Barcelona past time—an FC Barcelona match at the iconic Camp Nou.
Barcelona takes its futbol seriously. Unlike other clubs, it is owned and operated by FC Barcelona supporters. Not only that, it's the third most valuable sports team in the world, with a value exceeding $4.1 billion. Don't miss a once-in-a-lifetime opportunity to experience a home game.
11. Dabble in Dalí with a day trip to Figueres.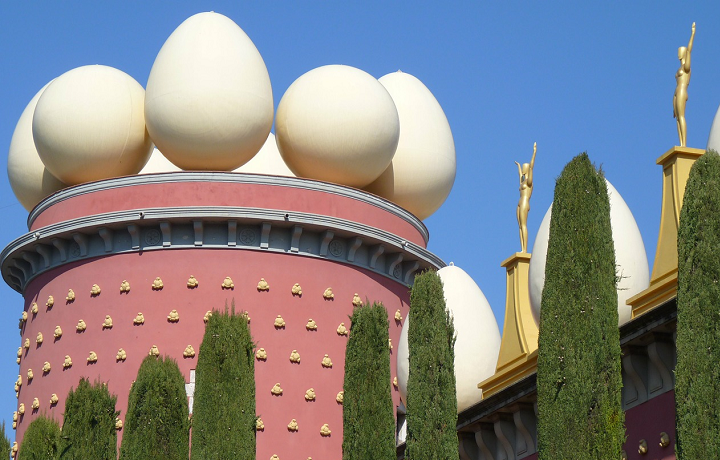 Barcelona doesn't suffer from a lack of world class art and architecture, but if you want to get to know one of the most influential modern artists of the 20th century, don't miss a day trip to Figueres and the Dalí Museum.
You can enjoy an AVE high-speed train ride and skip the lines for VIP access if you book a tour with a licensed guide. Go early and you'll be back in Barcelona in time to enjoy lunch at one of the fabulous restaurants in the Gothic Quarter.
12. Watch the dancing waters at the Magic Fountain show.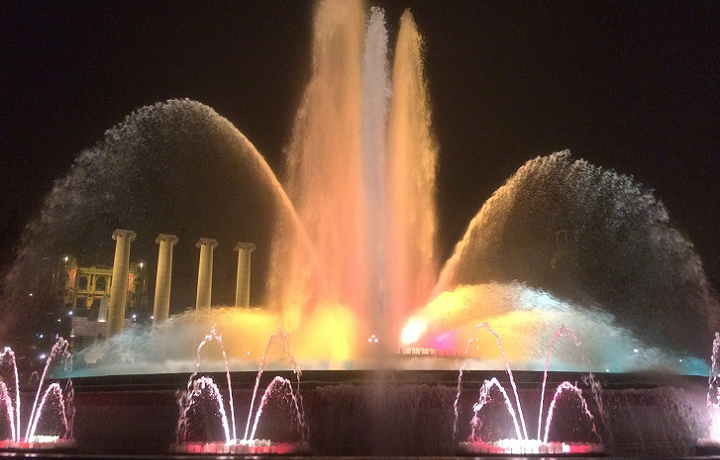 The Magic Fountain is just a short jump to the Mirador de l'Alcalde, the lookout in Montjuïc with panoramic views of the city.
Time your trip right, and you'll catch the Magic Fountain show, an exciting mix of water, lights, and music. The first Magic Fountain show took place in 1929 during the Great Universal Exhibition. It's a must-see for first-time visitors—the fountains at the Bellagio in Las Vegas pale in comparison!
Ready to cross off a few bucket-list events?
We'd love to help you plan your perfect Barcelona escape—it's the perfect year-round destination for travelers of any age. Tell us what excites you and we'll give you our best recommendations for the ideal itinerary. Get in touch and see how easy it is to plan the ultimate bucket-list trip to Barcelona.
If you'd like to learn more about how to plan the ultimate trip to Barcelona, follow this link to receive your free pocket guide straight to your inbox. You'll learn all about the city's hidden gems, insider secrets and so much more…