Autumn delights: Typical Catalan dishes from October to December

One of the main attractions of Catalonia is its traditional cuisine. And Autumn is a great season to taste and enjoy some of the most typical dishes. Here are some delicious suggestions to eat this fall. Bon profit!
October and Mushrooms: Catalan's favourite Hunt!
Every fall, thousands of Catalans find themselves under the mushroom's spell. And they go into the woods to "hunt" them! Yes, we don't' gather or pick them up. Finding 'Bolets' is a real adventure which has a happy ending: sitting on a table and having a delicious dish. Mushroom hunting has an irresistible, magical pull for these 'aficionados'.  But you need skills and have a previous knowledge of the area where you are going. And, of course, be an expert to see which mushrooms are edible and which are not.
In season, most of the market's fruit and vegetable stalls carry funghi. The most popular among them is the 'rovelló' (Lactarius sanguifluus or 'bloody milk cap') which is a perfect complement for all sorts of dish. Other popular ones 'llenega' (its scientific name is Hygrophorus and popular known as 'wax cap'),  or 'ceps' (a sort of italian's porcini). And then, you have the ones with peculiar names: from 'Ou de reig' (literal translation could be 'the egg of the King' or 'royal egg'), 'trompetes de la mort' (yes, it means 'trumpets of death' but, believe me, they are exquisite) or 'camagroc' (yellow footed chanterelle or Chantarellus lutescens).
Where to find Bolets?:
November: A pork story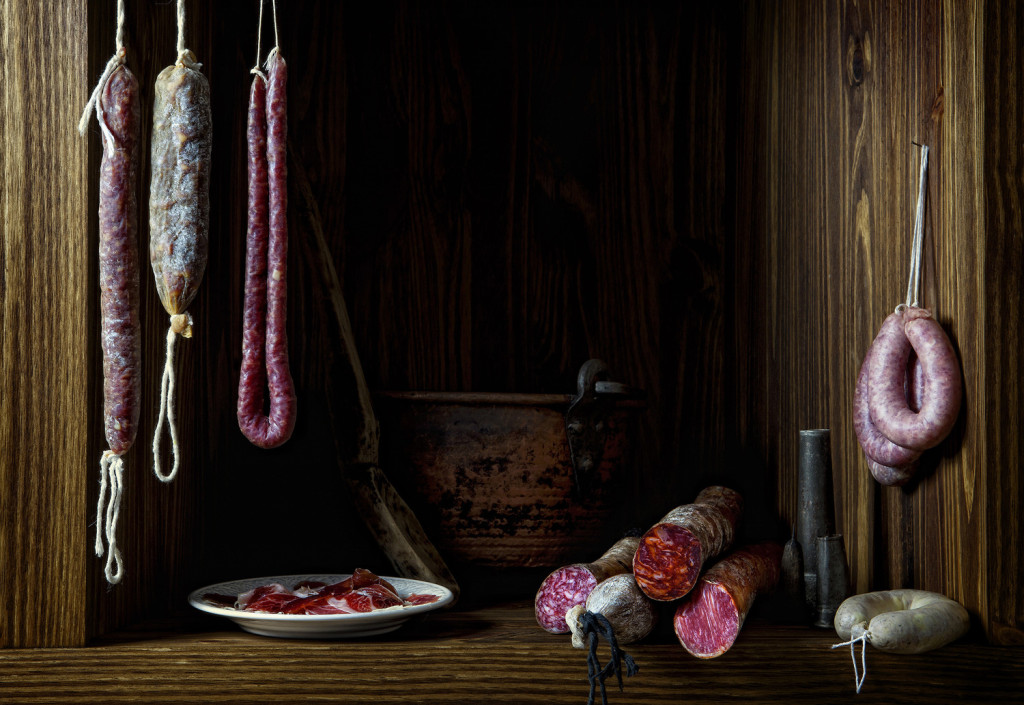 There is an old saying in catalan: 'A cada porc li arriba el seu Sant Martí', which translates to "Every pig has its own St.Martin's day". It refers to the countryside tradition which said that every November 11th was the day for slaughtering fattened pigs for the winter season.
And one of the many, many products that you can get from a pig are the 'embotits', one of the many varieties of what we know as 'cold cuts' or 'dry sausages'.
'Embotits can be filled with minced meat mixed with condiments, such as salt and pepper and, aromatic herbs and many other ingredients. The range is so wide: you can find from 'pernil' (known in Spanish as 'jamón'), 'botifarra' (sausage), which has to be cooked, or the loved 'llonganissa', a cured version of the pork sausage. 'Fuet', 'bull', 'secallona', 'xoriç'…the list is endless and really worth trying.
Places to find it:  Sausage making is a traditional food preservation technique. Some experts ensure that goes back to the 5th and 6th century BC. Nowadays, though, cold meats are industrially manufactured  but  also made in 'Cansaladeria' shops where they sell fresh pork or pork prepared as cured (pernil, botifarra).  Here are some interesting ones.
Also, artisan markets offer a great chance to find these products, especially the cured ones.
And regionally, Osona is a county which is well-known for its cured meats and pork products. The capital city, Vic, is famous for its cured meats including llonganissa, botifarra, bisbe, somalla, fuet and secallona.  These are served along  other products prepared by local producers who love the land and are able to extract the best from it.
December, a Taste of Home: Escudella amb carn d'olla
The year ends with a 'big finale'. What we know as "Escudella amb carn d'olla" is one of the most traditional Catalan stews. It's made with various meats and vegetables cooked together.
The first course is a tasty soup with pasta that reminds the shape of a seashell or a snail, and it is known as the "galet". The solid ingredients come after:  vegetables included are mainly chickpeas, potatoes, and green cabbage, and may also have some boiled celery (leaf and stalk), carrot, parsnip, turnip, leek, and onion.  In this dish it is also usual to find a characteristic sort of big meatballs called "pilota". Finally, you may also find pieces of Catalan sausages, like "botifarra" or "cansalada" (salted bacon).
So, although winter temperatures in Barcelona are usually smoother than other parts of the world, enjoying a warm plate of Escudella is always a great choice, especially if, in a way, you want to feel like you are at home…wherever your home is!
Delicious Escudella i Carn d'Olla: If you dont' have the chance to be invited by a Catalan family on Christmas day, two excellent places where you can go are:
Have you tried any of these dishes? Do you know any other dishes we must eat this fall? Share with us below.
Planning a trip to Barcelona in autumn? You might also like these posts: